Lumineq Displays
Beneq's Lumineq® displays are the most transparent displays in the world. In-glass laminated Lumineq displays add value to windows and improve the safety and ergonomics of vehicles.
The black and yellow colors of the rugged Lumineq displays are known as the Colors of Reliability®. Lumineq displays tolerate cold, pressure, shock and vibrations better than any other display type.
With Lumineq, you can design your own custom display and still get all the benefits of Beneq's proven display technology. If you can draw it, we can make it!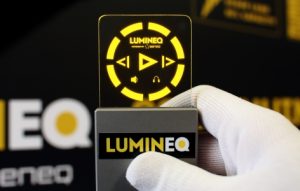 TASEL
Lumineq® transparent TASEL® displays enable you to break the design boundaries of conventional displays. Transparent displays are ideal for high-end applications, where a subtle look and first-class viewing experience make the product stand out. The basis of a TASEL, the display glass, is easily customized, it can be drilled or cut to custom sizes to fulfill your design requirements.